Senior International Sales and Account Manager
Dublin 2, Ireland (flexible working from home culture)
Salary DOE, negotiable
Full-time, Permanent contract
Creme Global
Creme Global is an award-winning data science company with international customers and partners. Our clients include multinational companies, industry groups, government agencies and academic institutions in the food, cosmetics and chemicals industries. Creme Global's multidisciplinary team, with backgrounds in mathematics, nutrition, physics, food science, computer science, economics and business develops and deploys our own cloud-based data science platform-product systems and provides scientific and technical services to meet our client's needs. 
The Opportunity
Creme Global are seeking a Senior International Sales and Account Manager to help deliver on our growth objectives. The successful candidate will take responsibility for managing strategic relations with Creme Global key accounts including large blue-chip multinational organisations, trade associations and international regulators. The ideal candidate will have demonstrable commercial experience and will have the ability to scope and sell high-value business solutions to clients internationally.
The role will involve developing long-term trusted relationships with key clients while developing a deep understanding of their current and future requirements. In parallel, working with the expert team in Creme Global to scope and deliver high-value solutions that meet and exceed the client's needs. Driving value-add solutions that will continue to grow sales with the key accounts. 
This is a key role within Creme Global with the opportunity for career progression as the company grows in the next 3 years. As our customer base is worldwide, there will be extensive opportunities for international experience.
Required Profile
A seasoned international sales and account management professional with a proven track record of targeting, pursuing and winning large-scale opportunities.
Ability to establish and maintain strategic relationships with the right level of influencers and decision-makers across different levels in the customer organisation. 
Ability to review and refine strategic plans and discuss strategic topics with the customer regularly as a consultative resource and trusted partner.
Ability to engage key stakeholders and executive leadership at key points in the sales process as required to gain support for the project.
A highly developed consultative selling approach, with the ability to jointly scope complex customer requirements, and sell concepts and value-added products and services.
Ability to work on multiple projects simultaneously.
Resilient, tenacious, persistent, highly motivated and performance-driven. 
A passion for providing the highest-quality customer service.
A team player with an extremely positive attitude and flexibility.
Responsibilities:
Manage relationships and grow sales with multiple large multinational organisations based mainly in the USA, UK and Europe. 
Develop a thorough understanding of key clients' needs and requirements and prepare customised solutions.
Negotiating contracts with key clients and meeting established deadlines for the fulfilment of each client's long-term goals. 
Perform effective follow-up programs to grow sales. 
Achieve and maintain a high level of technical understanding and proficiency in all areas of strategic importance related to Creme Global.
Identify suitable industry association meetings, technical conferences and trade shows. Evaluate potential speaking opportunities and submit proposals to present and speak, preferably jointly with customers. Support planning and attending these events.
Ensure that pricing and marketing material is up-to-date and relevant.
Act as the primary channel of communication between key accounts and the internal project manager.
Collaborate with senior management to develop and implement new account management plans.
Prioritise and qualify new opportunities to evaluate the best growth potential matched with the strategic direction of Creme Global. Conduct market landscape and market gap analysis.
Maintain records in the company Hubspot CRM system in a timely manner.
Demonstrate the highest ethical standards that exemplify Creme Global values. 
Willing to work from Ireland and attend the office in Dublin for at least one day a week or as required. 
Availability and ability to travel to USA, Europe and other locations as required for up to 25% of the time. 
Desired Experience:
A minimum of 5 years experience in account management and revenue generation with large, global blue-chip companies, trade organisations or government bodies.
Proven sales experience scoping and selling SaaS, and enterprise software solutions using data science, AI and machine learning to solve science and engineering-related challenges.
Proven sales experience drafting and winning high-quality and compelling project proposals, including scoping, negotiations and winning the contract.
Experience in evaluating, drafting and winning complex RFQ's, RFP's and tenders.
Desired Skills:
A minimum of a Bachelor's degree in science,  engineering subject or equivalent experience.
Strong technical and computer skills and aptitude with a knowledge of data science-related topics. 
Familiarity with regulations related to cosmetics or food safety. 
Excellent written and verbal skills with the ability to communicate and present effectively to senior executives.
Excellent networking skills. 
Fluent in English.
Our offer to you:
An opportunity to engage with and grow relationships with some of the largest and most high-profile companies in the world. 
An opportunity to work with international clients and a team of expert technical staff in Creme Global to scope state-of-the-art technology, using data science, AI and machine learning to provide high-value solutions to globally leading companies. 
A dynamic and personal atmosphere, working with a global, energised team.
A company culture that encourages performance and cooperation.
Flexible working models to ensure a balance of family and working life.
An attractive compensation package, commensurate with experience. 
Location: Dublin 2, Ireland (with remote working options)
Salary: DOE, negotiable
Contract: Full-time, Permanent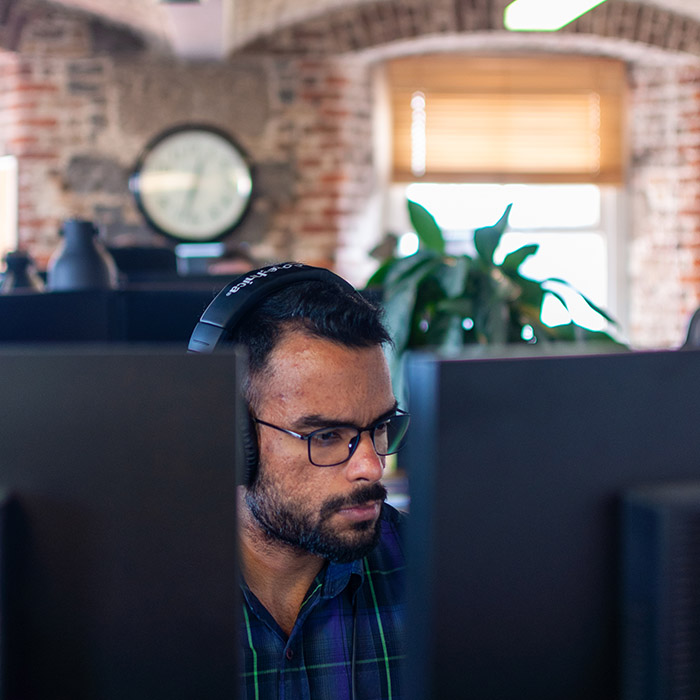 Apply for the role or find out more about our work
If this sounds like the role for you, contact us to find out more and send us your CV at careers@cremeglobal.com We're looking forward to hearing from you.