Dietary Intake Intelligence Tool
For new product development, reformulation and food safety
Dietary Intake Intelligence Tool combines the latest dietary intake data with a versatile, simple to use data interrogation tool.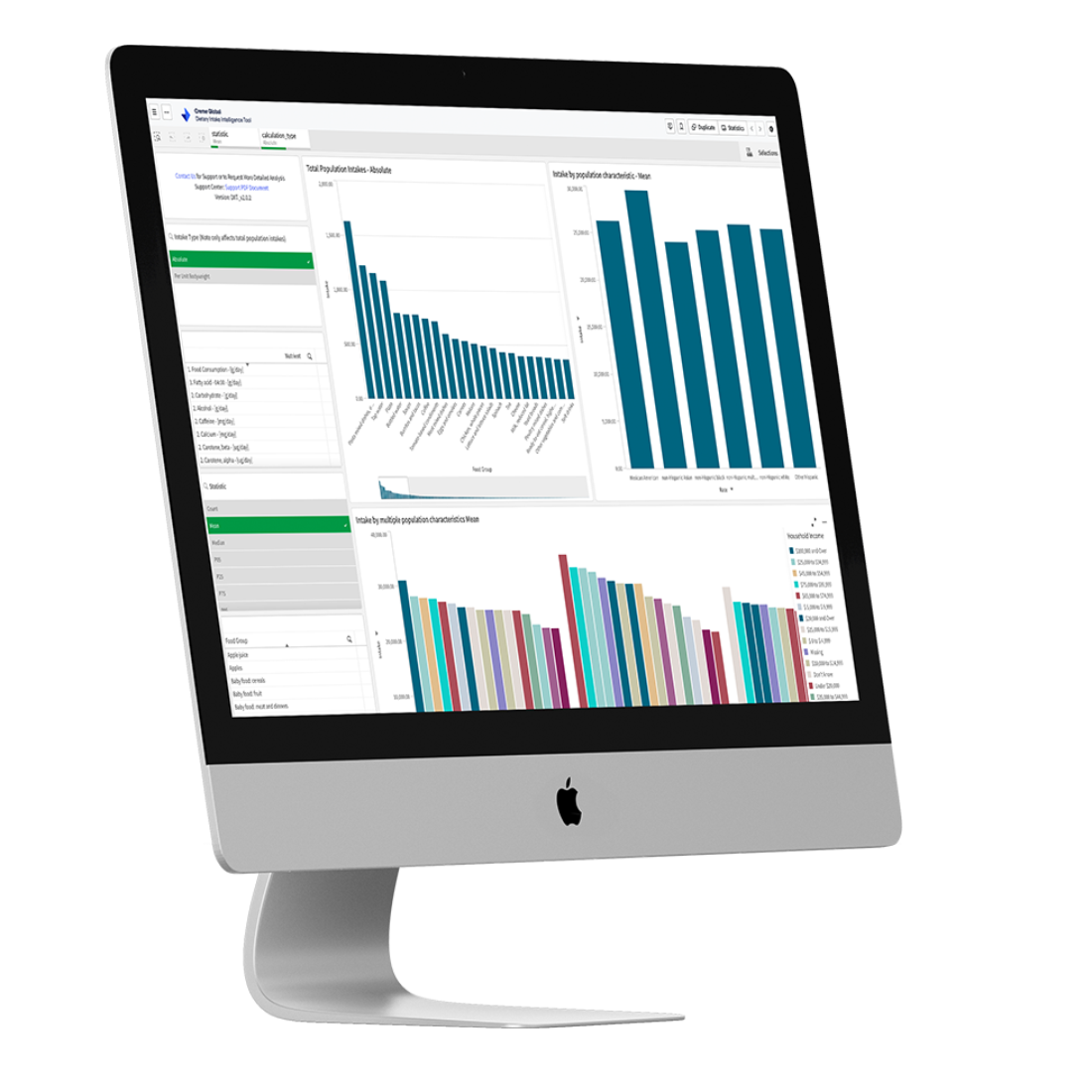 Answer nutrition and food safety questions quickly and easily based on official data on what people are consuming.
Dietary Intake Intelligence Tool makes it simple to know for example how much caffeine does an average person (or high consumer) consume per day? How much rice does an average child eat per kg body weight per day?  What are the intakes of calories, sugar, fiber, iron and many other nutrients broken down by age, gender and other demographics? What food groups are the largest contributors to protein intake on average across all ages?
Quickly address safety concerns
In order to quickly answer questions on nutrient intakes to address safety concerns and optimise health benefits during the reformulation of products, the Dietary Intake Intelligence Tool offers a unique solution suited for a wide range of scenarios. You'll get instant access to a scientifically pre-assessed library of dietary consumption data, presented in a user-friendly, interactive dashboard with an easy dropdown selection of nutrient data which can be grouped together, reviewed individually or graphed.
Powerful visualisation dashboard
The Dietary Intake Intelligence Tool dashboard enables users to quickly drill down into the readily installed database, looking at mean intakes as well as high or low consumer intakes (using the selected percentiles). It is a critical tool which has benefits across company departments, from new product development or reformulation divisions, to food safety. On the new product development side, it will determine specific products and ingredients to target for product development whilst remaining safe for consumers at the same time and it can help with first-port of call rapid risk assessments if a food safety issue arises.
Running on real consumer data using a validated scientific approach
Included data gives users multiple ways to segment data, such as by food groups, age, sex, body weight or household income, all across a number of countries.The data is from globally recognized official sources only, such as for example the United States National Health and Nutrition Examination Survey (NHANES) from the National Center for Health Statistics within the Centers for Disease Control and Prevention (CDC). Results were generated using Creme Nutrition and Creme Food Safety scientific models. These models have been externally validated and are in multiple peer review papers. See list of publications here.
Sandrine Pigat, Head of Food & Nutrition at Creme Global provides a brief tool overview and answers the main questions on how to use the Dietary Intake Intelligence Tool.
"Knowing and understanding what people eat, is a critical piece of the puzzle in personalized nutrition. However, what we eat does not only vary by our preferences or budget, it can also vary by our culture, our location and by our availability. The Creme Global team has developed a very clever dietary intake intelligence tool which makes analyzing these dietary intake questions a breeze! I have taken it for a spin and I love the clean dashboard, how easy it is to slice the data by household income and race, as well as by age, gender, body weight, nutrients and food groups. This tool can answer pertinent questions in seconds and I can see researchers, formulators and product development managers saving a ton of time using this tool."
Dr Mariette Abrahams MBA RD
CEO & Founder, Qina
Dietary Intake
Intelligence Tool
For new product development, reformulation and food safety
Designed to allow users to overcome inherent complexity of the database and efficiently find answers they are looking for.
Start your Dietary Intake Intelligence Tool journey today
Monthly Plan
Basic model access
€
555
Per Month/Billed Monthly
Annual Plan
For more advanced users
€
415
Per Month/Billed Annually