Senior Front End Architect/Software Engineer
Reporting to Dublin, Ireland
(flexible/remote working option)
Salary DOE, negotiable
Full-time, Permanent contract
At Creme Global we believe that to build great products you need excellent people. We are looking for a professional and enthusiastic Senior Front End Architect/Software Engineer, who enjoys challenging technical problems, to come and join our team and help architect and build out our innovative Data Science platform and products.
Creme Global is an award-winning company with global clients, which include some of the largest and most prestigious companies, government agencies and academic institutions in the world. Our close-knit team is highly progressive and multidisciplinary with backgrounds in mathematics, nutrition, design, computer science, amongst others, working together to provide inventive and powerful solutions for our clients.
As well as our modern data science platform Creme Global has developed solutions to allow our customers to see the impact of their new products on the general health and wellbeing of the world. We want our data science platform and products to be world-class and that's what this role is all about.
What you get to do every day:
Lead the front end team & provide key input on technical direction and product roadmap
Designing the architecture, plan and implement solutions to build out our modular data science platform
Help set the standard for the front end development team (AngularJS / Angular 2+ / REACT)
Work with Design to build a modern User Interface with a great UX
Facilitate cross-team interaction with Back End (Python / Django) and Test automation teams (Selenium) and help to troubleshoot any issues that arise 
Work with DevOps to make the best use of AWS – S3, Caching, Elastic Beanstalk, Lambda, RDS, SQS
What you bring to the role:
Minimum 7+ years experience working with Front End technologies and frameworks
Experience working with web APIs / JSON for multiple browsers & platforms.
Knowledge of database design and technologies such as MySQL, Postgres, MongoDB
Experience with software engineering practices such as the use of Version Control Systems (particularly Git), code reviews/pull requests, Test Driven Development and Continuous Delivery
Deployment tools (Jenkins/ Bower / Webpack / GruntJS)
Unit testing (Karma / Jasmine)
Experience in building RESTful APIs with Node.js
An ability and enthusiasm for integrating new technologies
Professional/knowledge skills:
Must have led a large front end transformation from one technology to another including refactoring of the code.
3+ years experience documenting proof of concepts, and/or articulating ideas into documentation form.
Experienced in writing design documentation.
5 years of experience with techniques to implement web application security.
Attention to detail, with the ability to estimate accurately and complete tasks within agreed time frames.
Strong interpersonal skills and the ability to work effectively in a team environment.
Strong communications skills, verbal and written.
Ability to interpret technical and business requirements effectively.
Fluency in English
Nice to have:
Some exposure to back end technologies (Python / Django)
Experience developing high-performance code
Interest in mathematics and statistics
Good eye for design
Location: Dublin 2, Ireland (remote working options)
Salary: DOE, negotiable
Contract: Full-time, Permanent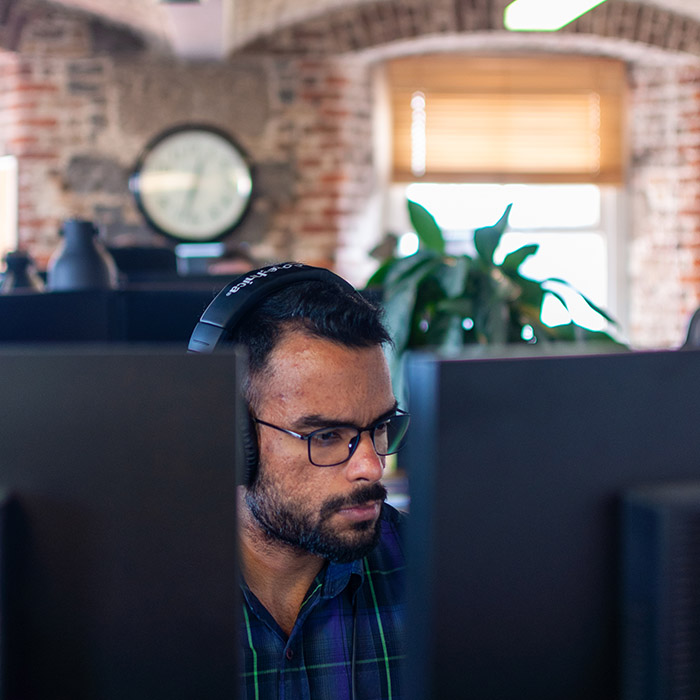 Apply for the role or find out more about our work
If this sounds like the role for you, contact us to find out more and send us your CV at careers@cremeglobal.com We're looking forward to hearing from you.