The International Association for Food Protection's IAFP 2022 kicked off last week in Pittsburgh, Pennsylvania. Over four days leading food industry experts from around the globe got together to learn and share emerging food safety issues, the latest science and innovations.
And of course, meet new and old food safety friends.
Creme Global was in town early on Sunday to attend the MMRA (Microbial Modelling and Risk Analysis) PDG (professional development group) meeting. PDG's are analogous to sub-forums on specific topics under the IAFP umbrella. They enable groups of people with a common interest to come together throughout the year to take a deeper look at a particular topic. MMRA facilitates communication on the topics of predictive modelling and microbial risk analysis, encourages research and data reporting methods to support risk analysis, and promotes their applications and use. Brendan was invited as a guest speaker to talk about AI in QMRA and food safety. A recording of that talk will be available in the coming days.

Read also Predictive modeling for Meat and Poultry.
The food protection community's incredible resilience and dedication.
The event opened with a big welcome from IAFP President Ruth Petran who highlighted the food protection community's incredible resilience in yet another challenging year.
"It has certainly been my great honour to serve as your president this past year, which brought a lot of uncertainties, and frankly, some sadness at times, with the reality of the pandemic looming over everything that we attempted," Petran said. "However, It also demonstrated our food protection community's incredible resilience and dedication to advancing sound science, exchanging information, and creatively networking."
Download
Getting your food safety data to speak
Food Safety in Africa.
Dr Lucia Anelich of Anelich Consulting in Pretoria, South Africa, took the podium to deliver the Ivan Parkin Lecture, "Out of Africa."
Dr Lucia highlighted food safety flaws and disparities in Africa. In particular, those highlighted by the COVID-19 pandemic.
Without a doubt, Africa is the world's food basket, with most countries leading producers and consumers of certain food items. Nigeria is the world's largest producer of yam; South Africa is the world's largest producer of macadamia nuts and the world's second-largest citrus exporter; Ivory Coast and Ghana are the world's largest producers of cocoa, and Kenya is the world's largest exporter of black tea and cut flowers.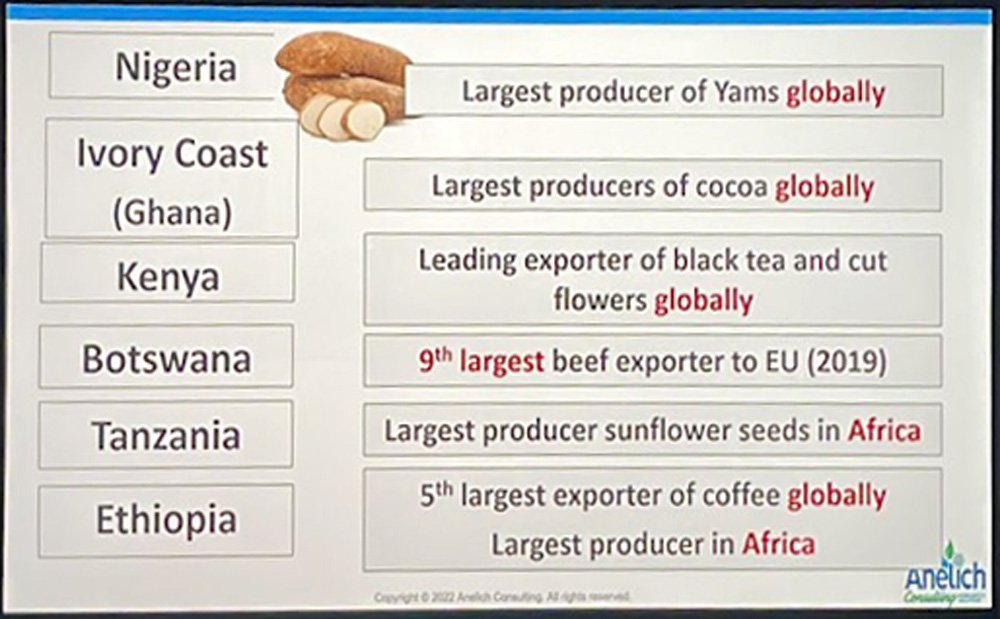 Lucia Anelich, a food microbiologist and safety expert, was part of the South African team that established the African Union's Food Safety Agency. Dr. Anelich shed light on African food safety and security by describing the two challenges for a potential agency: developing risk-based food safety standards and harmonizing food safety standards.
Challenges range from poor, unsanitary conditions of street food to record levels of hunger that are only increasing. Anelich has visited approximately 18 African countries and proposed formulated food safety strategies to address these challenges, including developing risk-based food safety standards and the harmonization of these standards.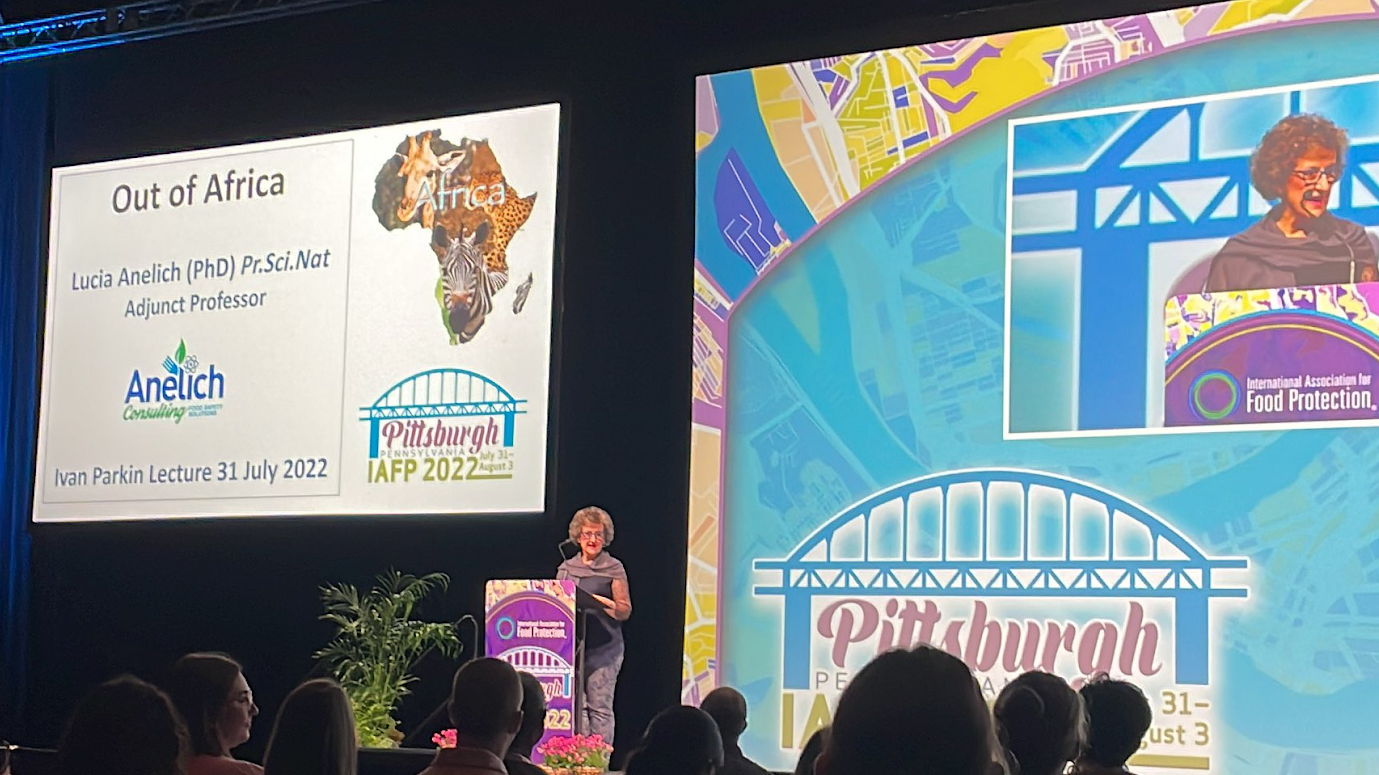 The FDA and USDA report "With challenges come opportunities"
Frank Yiannas, deputy commissioner for food policy and response at the Food and Drug Administration (FDA), and Sandra Eskin, the deputy undersecretary for food safety at the Department of Agriculture (USDA), provided attendees with an update on what their respective agencies were up to.
The two key takeaways were that USDA was announcing action to declare Salmonella an adulterant in breaded and stuffed raw chicken products.
And that data has to play an important part in food safety and traceability.
They were both addressing Salmonella in poultry and the ongoing battle against foodborne illness. "Public health goals for reducing Salmonella infections aren't being met. It's time for a change," said Eskin. "If we require it, the testing industry will create it,"
Since 1998, FSIS and public health partners have investigated 14 salmonella outbreaks that may have been linked to these products, which, according to Eskin, frequently appear to be cooked but are raw.
Eskin said, "We have consistently failed to meet our public health goals for reducing salmonella infections, so it's time for a change."
Download
Getting your food safety data to speak
"These are challenging times in our nation and the world as the food system faces unprecedented challenges. … But with challenges come opportunities," said Frank Yiannas.
"Today, we're in the midst of a food revolution," said Yiannas, citing new products, delivery methods and more as examples. "Imagine a future in which all the info we need about food is at our fingertips".
Frank called out the Creme Global project with the Western Growers as an example of industries advancing food safety by sharing anonymous data. See below for more on that project from the Western Growers presentation. And from Brendan's other presentation on Data Trusts.
The returns from investing in hygienic design
Dimitri Tavernarakis of Mondelez International spoke at the Food Safety by Design session about the inherent cost savings from businesses investing in hygienic design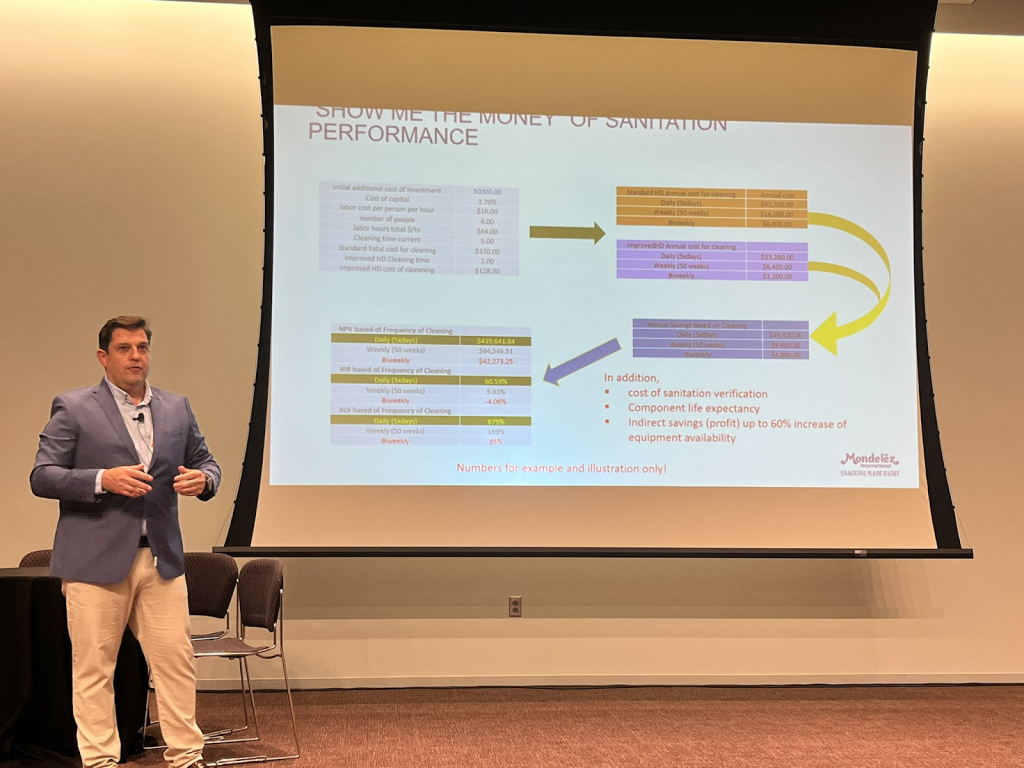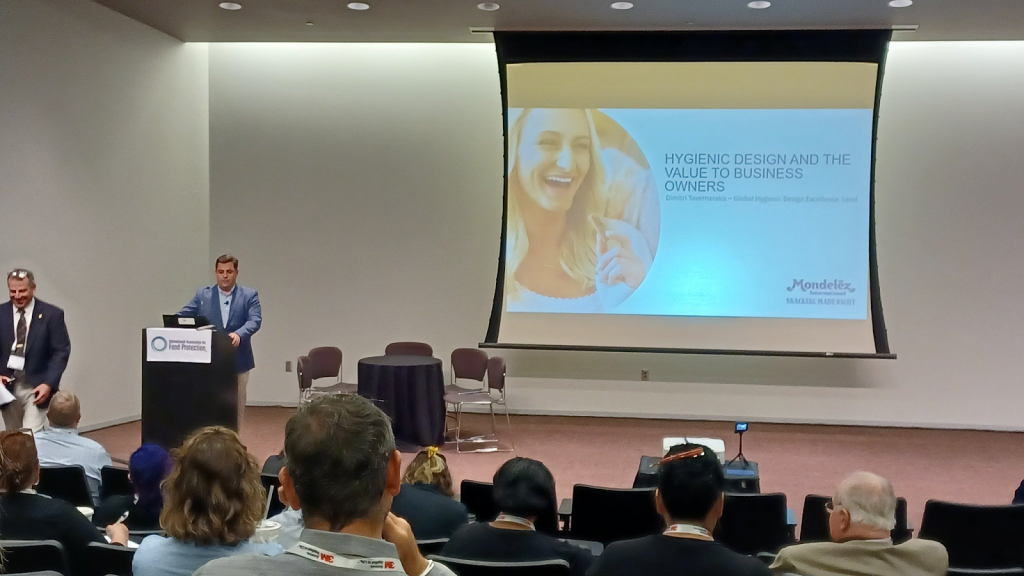 Returns often include improved productivity and efficiency on the facility floor and equipment reliability said Dimitri.
Hygienic design came up again later in our own innovative work with Nestle Purina on hygienic design and risk monitoring on the factory floor. The key outcome was being able to identify risk at different stages of the factory floor without having to identify specific bacteria.
You can download and read that study here.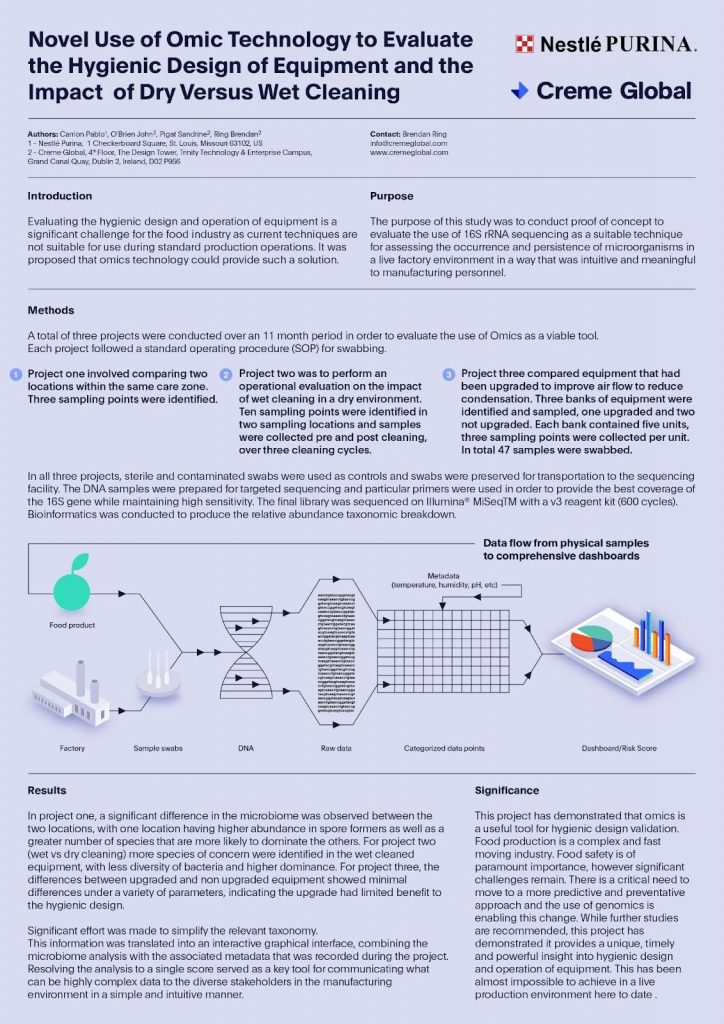 Comanagement for food safety and conservation
Food economist | Assistant Professor of Food and Beverage Management at Cornell Aaron Adalja along with Patrick Baur and Daniel Weller presented their research on comanaging produce farms for food safety and conservation!
Key takeaways from the research included:
Non-crop vegetation maintenance was associated with improved microbial and physicochemical water quality, including a reduced likelihood of pathogen contamination.
Costs and losses increase with farm size, but less than proportionally.
Habitat control was frequently used in larger operations.
Smaller growers engage in more independent conservation efforts.
Download
Getting your food safety data to speak
Mushroom outbreaks
In the session Where the Wild Things Are: Foraging, Laura Gieraltowski of the Centers for Disease Control and Prevention discussed recent multistate outbreaks related to fresh or dried mushrooms, including a listeria outbreak in 2017-18 for Fungi Food Safety.
The President and CEO of Ametek Inc., Dr. Florence Wu discussed the growing popularity of foraging and the speciality mushroom industry. According to Wu, mushroom poisoning causes nearly 1,400 emergency hospital visits annually in the United States. "Darling, I'm a nightmare dressed as a daydream," she joked about poisonous mushrooms.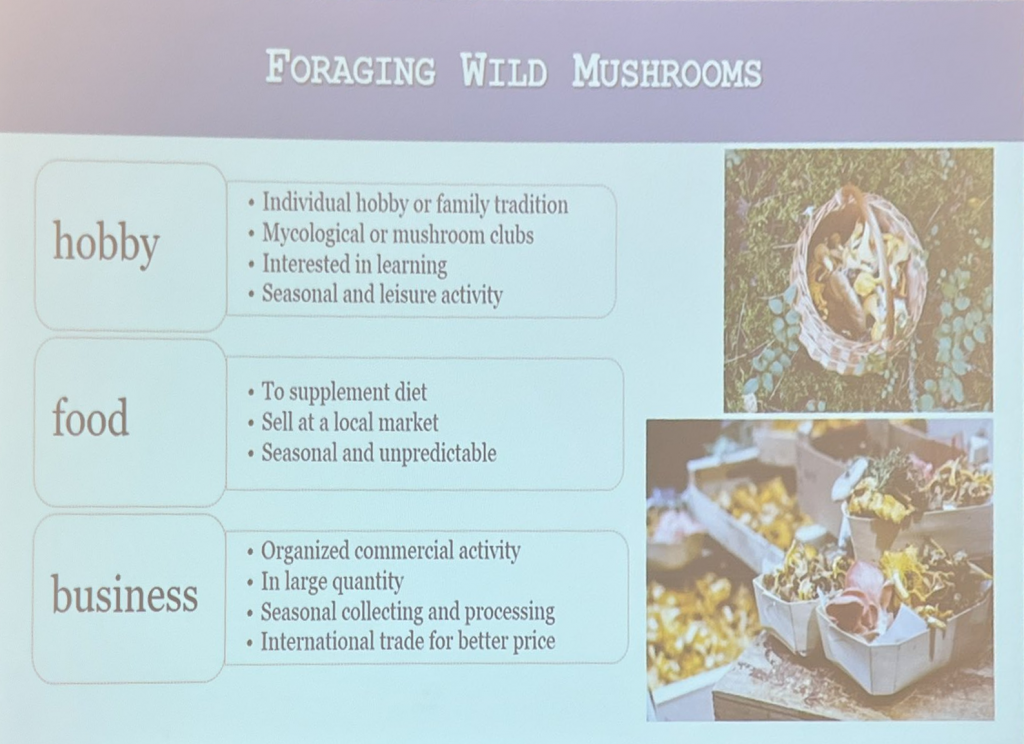 "There are old mushroom hunters and there are bold mushroom hunters, but there are no old and bold mushroom hunters," Wu added.
The world's most prized fungus? The white truffle.
Food safety communication
Communicating food safety was a repeated theme throughout the conference.
The Role of Celebrity Chefs and Influencers in Food Safety Messaging were highlighted. There are benefits and drawbacks of food influencers going viral on platforms like TikTok and Instagram.
The problem with short-form reels on Instagram and TikTok, according to Ellen W. Evans of ZERO2FIVE Food Industry Centre, is that "there's certainly no time for people to include information on food safety."
Often trends have absolutely no regard for food safety. Nicole L. Arnold, an East Carolina University nutrition science professor, cited a new, concerning trend: storing avocados in jars of water for months to extend their shelf life. Chef Cheese Kumar of Raleigh, N.C., described these trends as "like watching a car wreck."
But Arnold also stated that food safety professionals must be prepared to face backlash if they criticize an influencer online, both from the influencer and their devoted fan base.
"you have to be ready to take the heat if you call an influencer out. They are profiting off of misinformation, and they're making a lot of money doing it. And we're a threat to that."
Food safety communication also touched on the role food labels have in protecting consumers.
The FDA invited Amy Keller from Gluten Free Watchdog to discuss the challenges consumers face with inaccurate food labels. In particular the presence of Gluten in Fermented/Hydrolyzed Foods that many food companies are unaware of. Transparency between producers, suppliers, manufacturers and consumers, and correct labelling would benefit all.
But when it comes to providing safe food handling instruction to consumers it needs to be more than a label said Frank Yiannas of the FDA. "Consumers don't pay attention to labels too much. It has to go much further,"
Novel Foods, Novel Challenges: Food Safety Concerns in Plant-Based and Novel Food Products
On the third day of the IAFP conference Yanyan Huang, ADM, Kurt E. Westmoreland, FlexXray, and David D. Rasmussen, Kraft Heinz Corporation, discussed food safety challenges with plant-based or novel food products. Because of the increased demand for these products, all three speakers emphasized the importance of keeping them safe.
Yanyan Huang, ADM Global Quality Control Director, began the session by discussing the ingredient food safety considerations for novel proteins. Protein had no significant consumption history in the European Community before May 1997 and is subject to the Novel Food and Novel Food Ingredients Regulations (258/97/EC).
"What is novel food?" Huang asked rhetorically. "Because it's exotic"
Novel foods are those that have never been consumed. Pure chemicals, genetically modified foods, cloned animals, and whole foods new to a particular world are all examples.
Huang added, "what's the use for the ingredient you're using?" There should be an apparent reason for using unusual ingredients. Food safety challenges differ depending on whether the product is fresh, extracted, or concentrated."
"Turmeri, for example, can be coloring, a food ingredient, a supplement, and more, " says Huang. It's important you know the constituents and function of the ingredients you choose to use.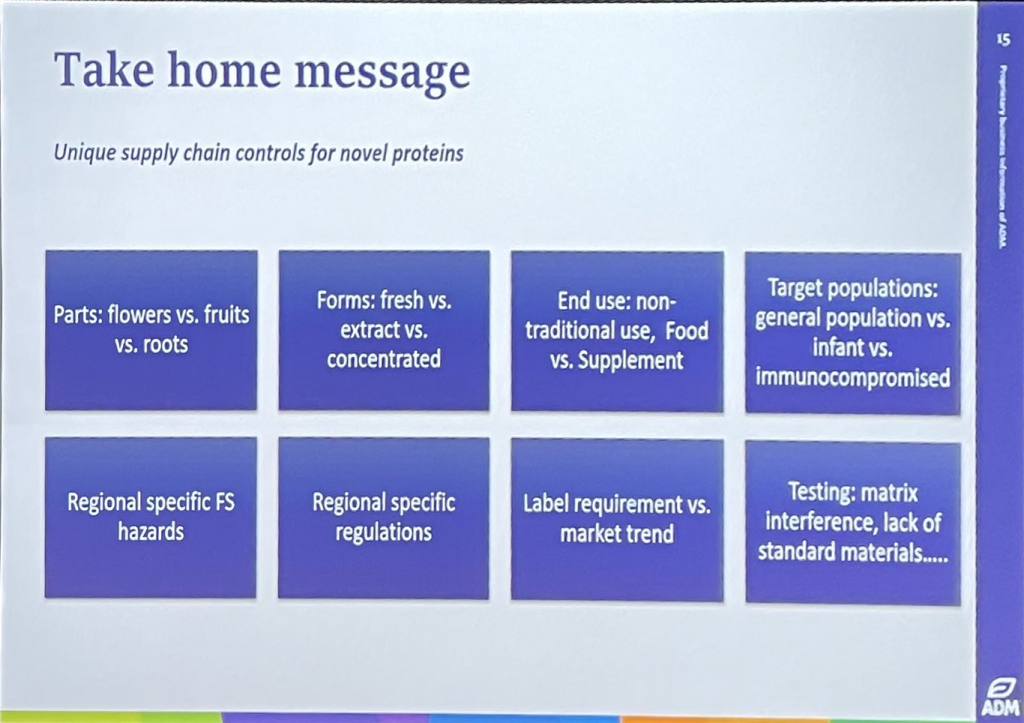 Kurt Westmoreland, chief commercial officer at FlexXray, which provides foreign material inspection services, continued the discussion by warning about the difficulties of developing a HACCP plan for plant-based foods. He stated that typical HACCP plans in plant-based manufacturing facilities include microbiological and/or chemical verification processes and systems.
If a novel product has as many as 40 different ingredients, that's 40 opportunities for foreign material to get into the product, said Westmoreland.
The Director of Quality at the Kraft Heinz Corporation, David D. Rasmussen then concluded the session by reminding attendees that if they use a co-packer for their novel food product, do you know what else they make? "They might do hamburgers, and you want them to do your new plant-based burger," he said. "Remember, this is not your facility, and you can't be there daily."
Public-Private Data Sharing: A New Opportunity for Risk-Based Decision Making in Food Safety.
The role of data and data sharing was a central theme across many presentations during the conference.
"These are challenging times in our nation and the world as the food system faces unprecedented challenges. … But with challenges come opportunities," said Frank Yiannas in his opening remarks on day 1 of the conference.
"Today, we're in the midst of a food revolution," said Yiannas, citing new products, delivery methods and more as examples. "Imagine a future in which all the info we need about food is at our fingertips".
Frank called out the Creme Global project with the Western Growers as an example of industries advancing food safety by sharing anonymous data. The organisation presented the positive results of their pilot scheme leading an industry-wide data-sharing initiative to ensure food safety with leafy greens.
Download
Getting your food safety data to speak
The project was a proof-of-concept (POC) that securely gathered highly confidential data from multiple stakeholders to enable preventive actions for food safety across various regions, commodities and production practices. With initial stakeholders across the speciality crop supply chain, including growers, grower-shippers, and processors were identified.
Creme Global, performed a review of data required to develop machine learning algorithms to predict and prevent food safety issues for this complex, high-volume industry.
In summary, >100 data types including water, tissue, adjacent land use, etc. were identified as relevant. >1,000,000 data points, spanning three years have been gathered including confidential stakeholder data, weather, etc.. A novel means of gathering and anonymizing data was also developed.
The resulting interactive information dashboards enabled users to access insights required to drive meaningful change to their food safety culture.
This initiative also addresses the challenges of data standardization and digitization. Most produce farming, harvesting, packing, and processing operations rely on paper-based systems.
Produce is one of the few foods typically not thermally processed before consumption, thus increasing the potential for pathogens to persist. The short shelf-life creates difficulty in identifying contamination risks and sources. The need for prediction and prevention is paramount. Through this food safety data sharing initiative, Western Growers and Creme are bringing produce operations on a revolutionary journey where their data enables smarter decisions on risk mitigation. This project seeks to demonstrate that by aggregating anonymized data, industry-wide collaborative benchmarks can be established to drive real improvements in food safety.
Of course, trust is the most significant barrier to data sharing as highlighted by Kelly Stevens of General Mills in a later talk.
"There are unintended consequences of data being shared out of scope," she said, adding that data must be shared with the appropriate context to offer insight and meaning.
According to Sean Leighton of Cargill Inc., organizations must be able to accommodate and analyze enough data to solve some problems. "To share that much data with anybody; you've got to put some work into managing that data," he added that it needs to be standardized and structured, and that's not easy.
Dr. Barbara Kowalcyk, an Ohio State University professor, said she collaborates with two hospitals to conduct private data research on foodborne diseases.
"This data is messy, she said. "Let me tell you how many ways someone can spell Salmonella."
Driving a Cultural Change in Produce Safety through the Use of a Novel Confidential Data Sharing Platform
Science Programs Director of the Western Growers Association Afreen Malik shared more details of the pilot program. We will share the full presentation and video in the coming weeks but some highlights worth mentioning are:
Moving to a data-driven approach represents a cultural shift within the produce industry. From a Reactive to Proactive approach.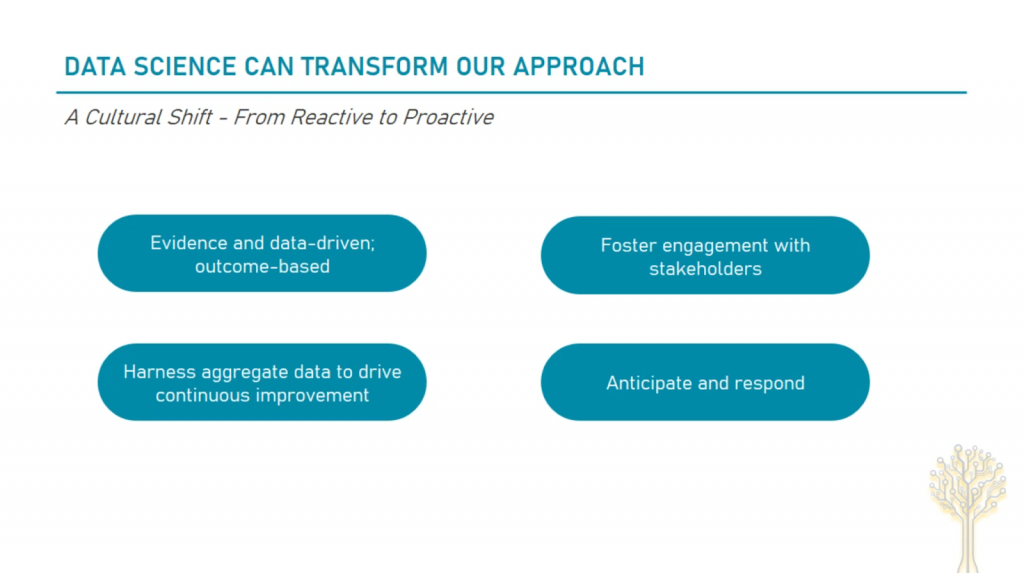 The data sharing platform connects over 100 growing operations, across three states and contains over one 1 million data points spanning a six-year time span.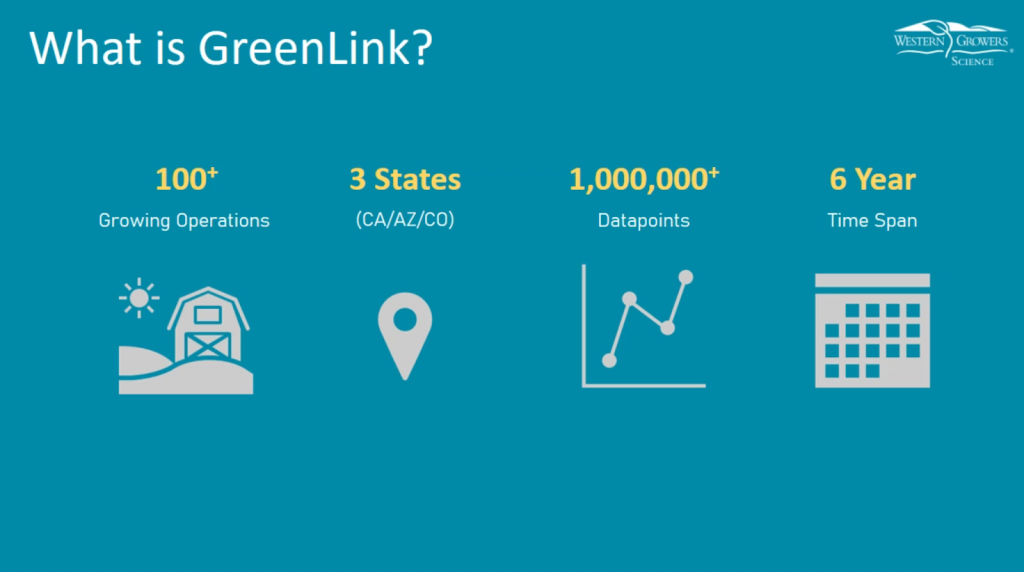 This is what the platform looks like for an individual operation with very granular data.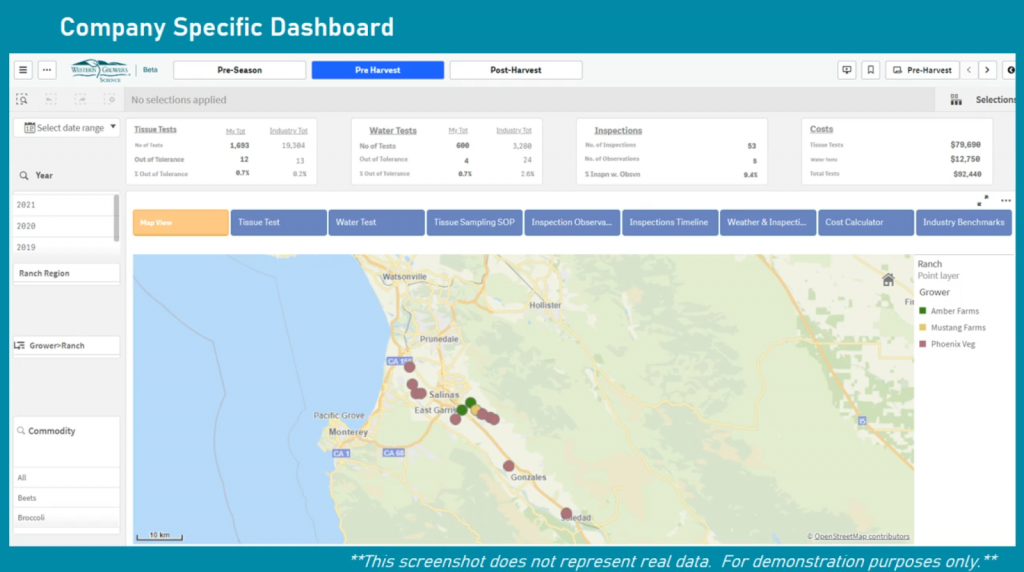 With an aggregate view looking across all growers and suppliers.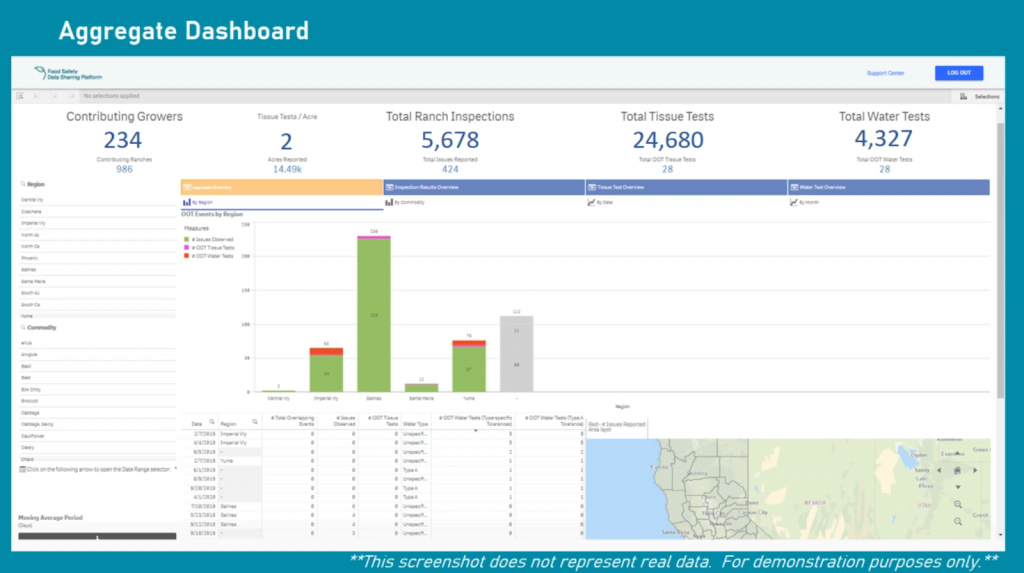 "As mentioned elsewhere, Trust is the biggest challenge and we have tried to turn those challenges into opportunities."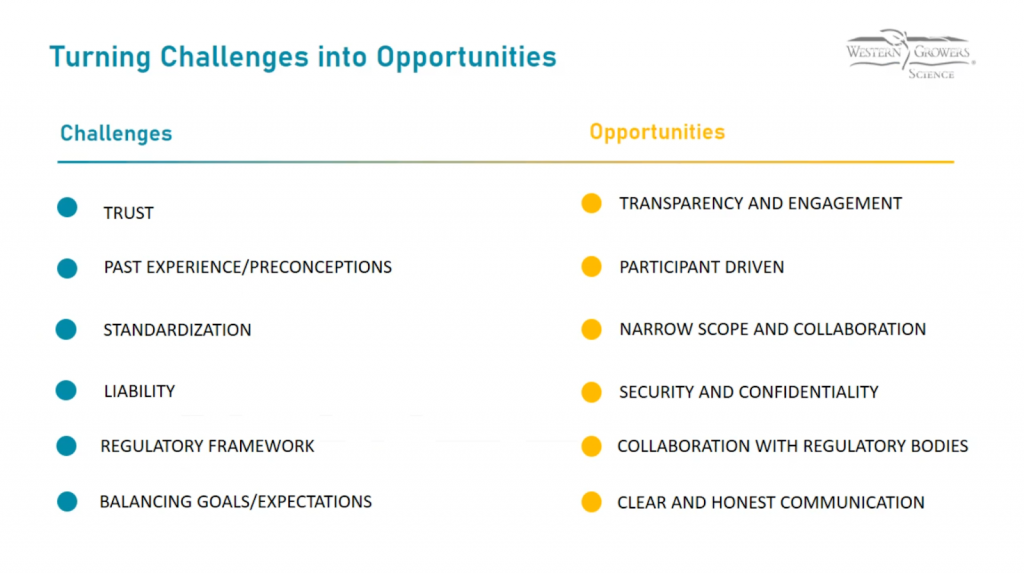 The full Western Growers presentation will be available in a couple of weeks.
Data Trusts – Frameworks for Secure and Anonymous Data Gathering and Food Safety
A problem Creme Global knows well according to Brendan when discussing how they help industry bodies, manufacturers and suppliers and government bodies share safely and anonymously.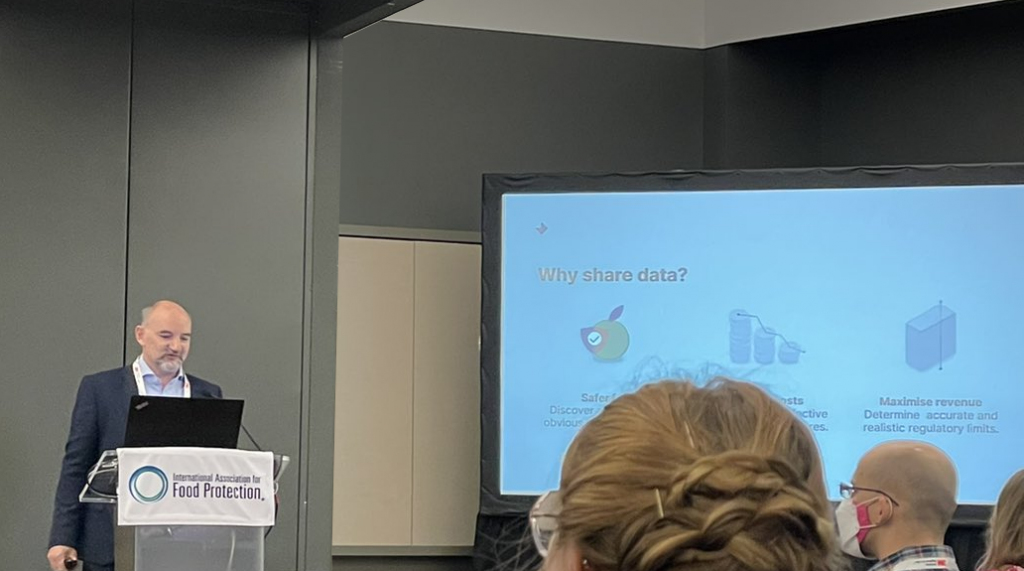 "Food companies and regulatory bodies around the globe share a common goal to deliver safe food to consumers. Both are also becoming increasingly aware of the value of sharing data" said Brendan. "Data sharing between companies (private), between companies and government regulators (public-private), and between regulating agencies (public) shows great promise for improving traceability, adopting and scaling artificial intelligence (AI) applications, and delivering safer food for all."
However, there are significant obstacles to sharing data including privacy, trade secrets, and the potential for regulatory action. Data trusts, like the one managed by independently Creme Global for Western Growers, serve as the fiduciary for the data and govern the proper use of data, are a potential solution to these problems.
The result is a prime example of the type of solution being sought by the FDA's 'New Era of Smarter Food Safety', an initiative to leverage technology and other tools and approaches to create a safer, more digital, traceable food system that exemplifies the power of data sharing in the food community.
Download: Getting your food safety data to speak
Find out how to identify company or industry-wide trends and risks that exist across your food production and supply chains.
The barrier is typically not technology, it is the business value proposition. Solve that and you solve the data sharing challenge.
Download the guide >>>